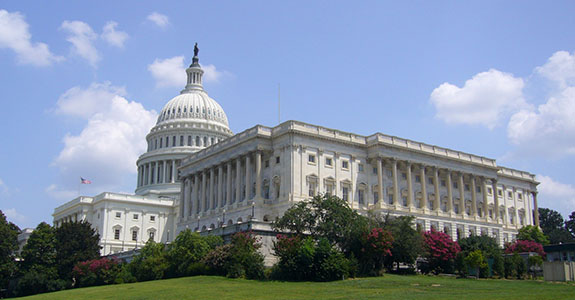 Hello, CarbonWA friends: Today's message launches the first of a multi-part series looking ahead to the climate politics of 2018. We'll be covering the political prospects for legislative action, initiatives, and more!
The Landscape
The last legislative session was a golden opportunity to pass a price on carbon: both parties knew they needed to raise revenue to fund education, our efforts over multiple years proved that there is at least some interest in carbon pricing from both parties, and the looming threat of another ballot initiative — from the Alliance, The Nature Conservancy, or CarbonWA — all increased the pressure to address climate. While we think there were enough votes to pass a climate package, that didn't come to pass for reasons we outlined in July.
Looking ahead, the prospects this legislative session look even tougher for a few reasons:
1. This is a short session — just 60 days. It takes a long time to hash out compromises. 60 days isn't much, though our work in previous sessions gives us a head start.
2. Another challenge is tax fatigue — after raising property taxes (no one likes the property tax!) last session, legislators will be rightly wary of going back to their constituents with another tax increase (especially with elections coming up in fall of 2018). Republicans' who have built low taxes into their political DNA will have little wiggle room this session, and even King County may be reaching its tax limits at the moment (see this recent poll on ST3 and the failure of the arts levy), which may give legislators from the area pause.
3. The major challenge is the ongoing struggle to find a compromise on the revenue. A revenue neutral package would mitigate the problem of tax fatigue and could generate interest from Republicans, businesses, and other interested in tax reform. The B&O tax is one of the keys — Republicans spent a lot of energy trying to reduce it last session. But one thing we've learned in Olympia is that a broad based revenue neutral approach might be great for lower and middle class people financially, but it doesn't include the funding needing to attract key industries or constituencies to the table on the left and right. There may be room for a package that uses some revenue to cut taxes and some to fund key priorities. But the exact mix has thus far remained elusive and a fully revenue positive package returns us back to the problem of tax fatigue.
All of the above point to a session without much action. But stick with us here because the prospects may not be as dismal as we originally assumed:
While the Alliance for Jobs and Clean Energy appears to still be ironing out the details of their initiative, they look serious about putting something on the ballot (we'll let you know if that changes — the climate movement can't sit out 2018!). And, if they don't pass a measure in 2018, we'll look at working with everyone to make sure there is a climate measure in 2020. So the message to the business community should be clear – climate policy is coming to Washington one way or another. They can either spend millions beating back measures indefinitely, or they can collaborate on something they can live with. More and more members of the business community are realizing this (and realizing that cutting carbon can also mean growth!) and coming to the table, thanks in part to the intrepid work of the Washington Business Alliance.
The special election in the 45th also appears to be leaning to the Democrats. We aren't taking a position on this one but many Republicans who have partnered with us on climate action are supporting the Republican and many Democrats who have partnered with us are supporting the Democrat (as an aside, there is a bit of a tiff going on over whether Englund supports climate action or not, but regardless Dhingra gets a kudos for putting climate action on her website). We'll be eager to work with whichever candidate wins in the 45th. If the Democrats win, they will regain control of the Senate. Conventional wisdom is that this probably increases the chances that climate efforts will succeed in the legislature, but it far from guarantees it.
The Keys to Action
1. The Democrats probably need to win back the Senate majority. While we take pride in being bipartisan, it is undeniable that a Democratically controlled Senate will be more open to pushing climate action. That being said, neither party has shown great leadership on this issue as a whole, and a Democratic Senate does little by itself to unlock major climate action. Republicans' will still hold the keys to passing something (see points 4 and 5!).
2. AWB (Association of Washington Businesses) and Utilities need to come to the table. This is probably the toughest one to make happen. Puget Sound Energy was one of the biggest opponents to our carbon tax efforts and AWB organized the 'no on 732' campaign. Rumor has it that both groups have mixed feelings when it comes to carbon pricing. Perhaps the right package would interest them, but the more likely forcing mechanism would be the realization that they will be fighting ballot measures until something happens.
3. The House Democrats need to lead on climate. While Rep. Fitzgibbon has worked hard on this issue, House Democratic leadership missed the opportunity to push carbon pricing last session. They need to make this issue a top priority. With a narrow majority in the House, conventional wisdom would be that leadership will be nervous about taking any risky votes (like a big new climate legislation).
4. The Republican moderates need to assert themselves. There are a surprising number of Republicans in both chambers who are open to climate efforts. These Republicans' will need to assert themselves within their party and within the climate discussions. If they help to design a climate policy that is effective while also protecting (and benefiting!) their district, we'll be with them.
5. A carbon tax would need to be written with bipartisan support. Even if they win back the Senate, the Democrats would almost certainly lack the votes to pass major climate legislation completely on their own, so each chamber would need at least 3-5 Republican votes to pass something. That means Democrats and their aligned constituencies would have to be willing to compromise (see the above conversation on revenue!) and Republicans interested in climate would need to get in the game (see point 4 above!).
The Key Players to Watch
1. Governor Inslee: The Governor has made climate his signature issue. His leadership has raised the profile of climate change which has undoubtedly helped, but he can also be a polarizing figure in a highly partisan Olympia. If Inslee can work behind the scenes to get liberal groups and the business community on the same page, he could deliver big on his key issue, but he may have to give ground on the Clean Air Rule he worked hard to create or make other sacrifices to secure a deal.
2. House Democratic Speaker Chopp: The powerful and cagey Democratic House Speaker usually gets his way, but climate hasn't been one of the top issues for him. The House hasn't acted on carbon pricing for multiple years now. Will he be an ally, an obstacle, or neutral?
3. Senate Democrats Palumbo and Hobbs: These moderate democrats were key carbon pricing bill drafters last session. Palumbo collaborated with us and other environmental groups last session to try to find a pragmatic path ahead on carbon. If anything moves this time it will be in part because of the relentless effort of one or both of these senators to get key stakeholders on board (see number 2 and 5 in the "keys" above).
4. Senate Republicans Miloscia, Fain, Braun. This block of influential Senate Republicans could dictate what is left in and what is left out of any carbon pricing system. Miloscia and Fain endorsed I-732, while Braun did some work on a "732B" in 2016. They could emerge as the protectors of the middle class, small business, and rural communities if they actively engage on climate.
What You Can Do
We aren't going to tell you to spend all your time and energy going to Olympia this winter. You may decide that local climate efforts, getting involved in an initiative, or something else is the best way to get engaged. But, don't completely forget about Olympia this winter. We recommend the following actions for engaging in the legislative session.
1. Write your legislator now. Write your legislator now. Let them know that you are thinking of them and that you expect them to be leaders on climate change. Let them know you expect them to lead by sponsoring a climate bill, recruiting other legislators to support legislation, and/or by reaching out to the key climate stakeholders in their district to figure out how they can get to 'yes' in 2018.
2. Join the ACT NOW coalition volunteer calls. If you want to stay up to date on inside Olympia news, help us strategize, and network with other volunteers and organizations then join our monthly ACT NOW volunteer calls.
3. Stay tuned to our emails. We'll be honest about the session as it unfolds. If an opportunity for climate action appears, we'll set up a lobby day for you to join, and if it doesn't we'll be telling you about what happened and how best to hold our leaders accountable.
4. Follow the special election in the 45th. Whether you are a Republican or a Democrat, this is a key race. Both candidates need to hear from their constituents and donors that they are expected to take a leadership role on climate action if they win.
Stay Tuned for 2018: Part II Initiatives.
Onward!
From the whole Carbon Washington team